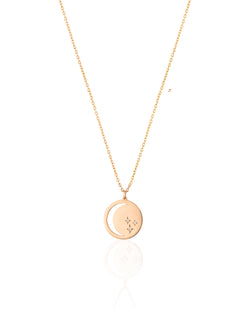 Diamond Stars Cosmos Gold Necklace
All life is touched and stimulated by the moon and the stars. 
The moon is considered to be a symbol of change and evolution, and the stars themselves came to mean good luck and something to be wished upon. 
The 18kt gold Cosmos necklace is hand carved with hollowed moon and the stars are encrusted in white diamonds. It's the necklace that will be your daily staple and a reminder to never give up on your dreams.
Product Details:
Material: 18kt gold
Weight: 2.30gr
Stones: 0.01CT white diamonds
Chain Length: Three closures from 40cm to 44cm
Rings 
Bracelets
Payment Options
Cash on delivery in Lebanon only (USD or LBP as per the market rate)
Online payments in USD using debit/credit cards issued outside Lebanon
Local or International Money Transfers (After placing your order, we will contact you to share the needed information) 
Worldwide Shipping
ByDelcy ships worldwide via DHL.
Free Shipping on $500+ orders.
Delivery may take up to 14 working days.
Additional shipping fees may apply.
Custom Fees
Your order may be subject to custom fees and other local taxes disposed by the country you live in.
Custom fees are to be paid by the buyer.
ByDelcy won't be able to provide you with the exact amount of customs or other taxes that you will be charged since those amounts depend on the country you live in.
Return & Exchange Policy
At ByDelcy, the satisfaction of our customers is a top priority and meeting your expectations when you receive your purchased products bring ultimate joy to our team.
For any complaint or request for exchange, please email us to design@bydelcy.com.
Please note that we do not accept refunds since our pieces are custom made for each order.
You may request to exchange a product for another one of equal or higher value, within 10 calendar days of receipt.
Personalized items are not exchangeable.
ByDelcy is not responsible for any shipping charges, taxes or any other fees on returned items and new handlings.
Returns will only be accepted for exchange, if the pieces are still intact and with their original packaging.